Nick Maltby
Producer / Writer / Director
​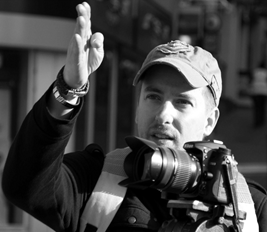 ​
​
​
Gooseberry Fool marks Nick's debut as a feature film writer and director. Having already made a number of short films, he feels more than prepared to make that leap.
In addition to his writing and directing, he has worked professionally on a number of projects, including as a runner on the BBC's 'Oliver Twist', a time-lapse camera assistant on Lion Television/BBC series 'The Great British Summertime' and 'Britain From Above', as well as on a Lurpak butter commercial for Partizan.
He served as editor on the independent cycling documentary 'Paris-Brest-Paris: The Incredible Journey' and more recently has been involved with the new film from award winning independent film maker Ken McMullen, 'An Organisation of Dreams', starring Dominique Pinon, John Shrapnel and Julia Faure. His work on that project includes second assistant director, second unit director and assistant editor roles. The film has so far played in both the London Film Festival and the Moscow International Film Festival.
Nick is a film maker who shoots from the heart. He aspires to tell cinematic stories that both entertain and resonate emotionally – and if possible, create a little of that movie magic that has proved so inspiring to him over the years
Phil Ball BSc (Hons.)
Director of Photography
​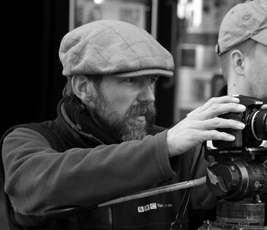 ​
​
Phil's work as a cameraman has taken in a diverse range of projects. This includes a number for the BBC and the BBC's Natural History Unit such as 'Jimmy's Farming Hero's', 'Britain From Above', 'Planet Earth', 'The Natural World: The Fatal Flower' and 'The Natural World: The Restless Year'. He has shot a wide variety of videos for recent Greenpeace UK campaigns.
​
He is an expert in time-lapse photography having worked on numerous commercials for Partizan, Blink, Fold 7 and Mad Cow. The multi award winning PBS programme 'Madagascar: A World Apart' is amongst the many documentaries for which he has contributed time-lapse sequences.
​
Phil has served as Director of Photography on more than a dozen short films and music videos, as well as corporate dramas for the NHS, the theatrically released feature length documentary 'Anyone Can Play', and additionally he oversaw second unit for the independent feature film 'An Organisation of Dreams'.
​
When not anchored to his camera, Phil can be found tutoring the next generation of film maker at Cre8 studios in Swindon. Three productions filmed in this capacity have won a National First Light film award.
​